Tahoe Snow Dot Org
TahoeSnow.org is a community snow reporting website for Lake Tahoe ski resorts. The website focuses on keeping snow reports honest and offers an open snow reporting system where anyone can report daily snow conditions during the winter season.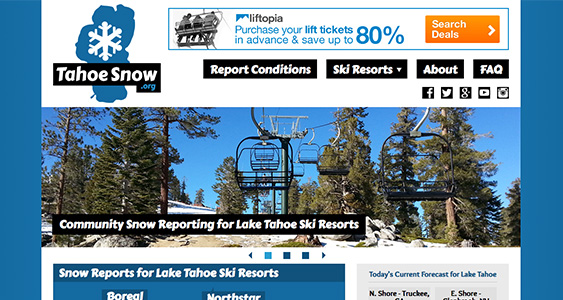 Some of the great things about the Tahoe Snow Dot Org website is the sites automation that creates daily posts for 11 different ski resorts. Along with some amazing anti-spam plugins, the website requires very little maintenance and essentially runs itself.
Some features of this project included:
Custom Automated WordPress Theme
Custom WordPress Plugin
Responsive Design
We wanted to encourage the snow community to report snow conditions, so we designed an easy to navigate user interface. Users are allowed to share snow conditions through writing, images and link videos through popular video sharing sites, like YouTube and Vimeo.

Another nice design element to the website is the custom calendar pages for each ski resort. With the website posting daily, we designed a calendar template that builds each month and displays each day with the number of snow reports. The calendar template is also sustainable and does not need to be updated each year to reflect the changes in the calendar.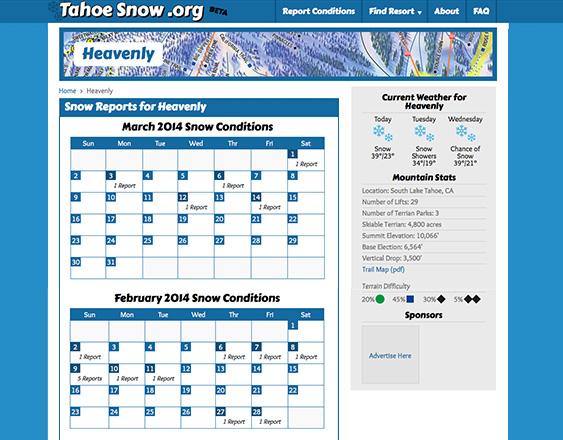 To reach a broader audience, the website also uses responsive design so it can be displayed optimally across all screen sizes and devices. Because the website is mobile friendly, it encourages more immediate snow reporting by allowing people to post snow reports from their phones while they're on the mountain.
To learn more about Tahoe Snow Dot Org, visit their website at: tahoesnow.org.